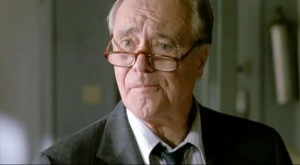 This 1992 film from David Mamets Pulitzer prize winning play from 1984 shows it's age. Set in a Chicago real-estate office, it's salesmen are given the ultimate deadline. The first to pull in a closing sale wins a car, the second wins a set of steak knives and the third gets the sack (There are four salesmen, not sure what the fourth prize is – death?) All they have at their disposal are some terrible "leads" even though there are 500 new "leads". These new leads will only become available to those who succeed even though each salesmen feels they would succeed with these new leads. Then the office is burgled and two of the salesmen suddenly succeed in closing their deals. And so on. As the IMDB put it, the film is "An examination of the machinations behind the scenes at a real estate office".
Jack Lemmon will always be watchable whether he's playing Shelley Levene in this film or Joe Clay in Days of Wine And Roses. Having watched him in this film one wonders why he never played Willy Loman in Death of a Salesman – he would have been perfect! Yet this film is no Death of a Salesman, though similarly it was originally a play and this could be the nub of the problem for me. I'm reminded of watching Carnage recently,  the film version of Yasmina Reza's play God of Carnage directed by Roman Polanski. I was fortunate enough to watch both (the play starred Janet McTeer, Tamsin Grieg, Ralph Fiennes and Ken Stott). The film version was dull in comparison, but should that be a surprise? After all it was written for theatre, not film.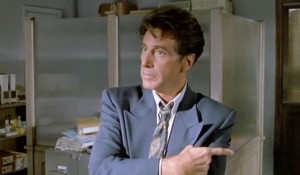 You know when someone does an impersonation of an impressionist doing an impersonation. Likewise Kevin Spacey, Al Pacino, Jonathan Pryce and Alan Arkin all play charactured film versions of theatrical versions of the characters. Lots of pointing, lots of swearing, lots of smoking and lots of gratuitous intesity that suggests hidden layers to their characters etc etc… But with so many big names one couldn't help feeling this film was just a job for the boys. Nor did this help another thing that nagged me throughout the film – it's about "the machinations behind the scenes at a real estate office" So what?  Why should I give a flying flack about any of these people? Why does this deserve my attention? Mamet failed to make me care. It was theatrical performance on film and was consequently a bit rubbish.
[rating=2]
Buy Glengarry Glen Ross Steelbook on Blu-ray and DVD