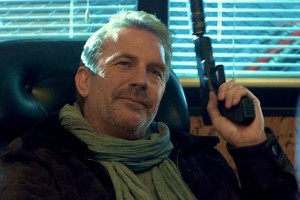 There has been a fashion, which has recently spiked in popularity, of mixing what would otherwise seem odd combinations into winning (and therefore original) formulas. Last year for my birthday I enjoyed the signature dish at Londons "Duck And Waffle" which was precisely that plus a fried egg and maple syrup. It sounds wrong but it was delicious. One can't help thinking about all the disastrous combinations that may have been tried and never made it past the test stage. Some poor soul still had to eat it.
This film too is a weird combination of action and domestic family duties. A CIA agent and top assassin (Kevin Costner) finds he has a terminal illness. The film charts how he juggles his brutal job with trying to be the dad he never was. The result is a combination like fish fingers and custard – and probably the reason this film simply doesn't work.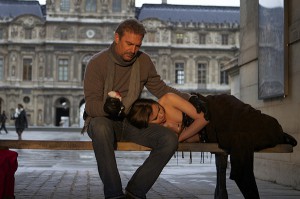 Costner is pretty impeccable in whatever he is in and, like Richard Gere last year, it was nice to finally see a return of this actor who, like Gere, was at his prime in the 1990's. But he is let down by a terribly corny script and is forced through a variety of "being a good dad" cliches that would have been fine in a 30 second advert that precede the movie, but is saccharin and lard crowbarred as it is into this ill-constructed story! And then there are the attempts to be funny, even quirky. But the humour is of the quality you see politicians attempt in their speeches and just leaves you feeling awkward and embarrassed for them. The action sequences however are good.
Given there has been an absence of reviews on FilmFridays lately and it's a shame to resume with such a negative one. The reason for the hiatus is that I became a father! If this film has done anything positive, then it's to remind me to avoid ever becoming a schmaltzy cliched parent and, I guess, to put my children before my career of killing people! Wow, what an epiphany, not!
[rating=2]