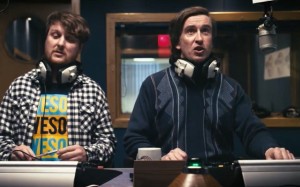 East Anglia has produced many, many famous faces but none (bar Delia Smith and the people who make Colmans mustard though theoretically they're not a face, they're a condiment) could be more famous than Alan "A-ha" Partridge. The former DJ turned sports presenter turned chat-show host turned motivational speaker turned DJ again for North Norfolk Digital has finally turned film star with his very own film in which he stars. Rumoured to be ten years in the making (though the filming probably only took ten weeks) Alan, author of failed motivational book "Bouncing Back!" has a sure fire hit on his hands and moribund it isn't!
Anyone who has followed Alan's webcam antics on YouTube in recent times won't be surprised to find him at the start of the film working at North Norfolk Digital presenting his regular slot with his co-host Sidekick Simon (Tim Keys). But change is afoot and the hand of fate rears its ugly misshapen head when new owners rebrand the radio station 'Shape FM' and in the inevitable shake up someone is for the chop. To who will it happen? (sorry, that should be 'to whom?')
Partridge fans will be pleased to see regular characters including Alan's hard working PA Lynn Benfield (Felicity Montagu), geordie Michael (Simon "Simplz" Greenall) and troubled DJ Dave Clifton (Phil Cornwell) as well as some terrific supporting performance from Colm Meaney, Monica Dolan, Anna Maxwell-Martin and Darren Boyd. Behind the scenes credit should go to Armando Iannucci, Peter Baynham, Rob Gibbons, Neil Gibbons and Steve Coogan.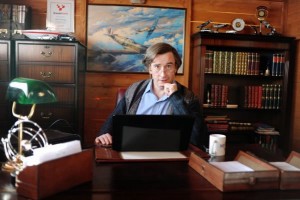 It's HOT on action! If you're watching this gripping drama in the cinema, insist they leave the lights on. If you're watching it at home, prepare a change of pants. Because if you don't soil yourself with the fear and suspense, then you'll wet yourself laughing. Either way you will end up fouling yourself several times during this movie. And if it leaves you with anything, it's the knowledge that "cows don't have hymens!" Another fascinating fact same time tomorrow.
The best British comedy for decades!
[rating=5]