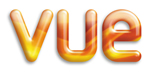 I am still reeling about how one ticket, a drink and popcorn could cost me £24.85 and I still have to sit through half an hour of advertising but that's exactly what happened this afternoon at the Vue Cinema (formerly Apollo) on Piccadilly Circus. I had considered the venue the best in London last year, but the change of ownership since Vue purchased the chain in May 2012 has had a significantly negative impact on the venue. I for one will think twice before returning.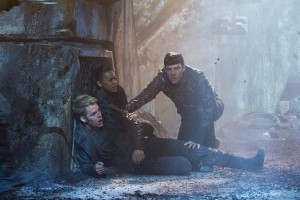 I'd gone to see the new JJ Abrams Star Trek:Into Darkness in 3D. And being a hot day found myself alone in the air conditioned cinema. Nice (though not £25 worth of nice!!) This is Abrams second ST film. He's quite a one for taking on old franchises and making them his own whilst respecting their essence so as not to disappoint a huge core of die hard fans (Unlike the latest Die Hard offering which disappointed a huge core of Die Hard fans – seriously, what were they thinking.) This task is going to get even more difficult for Abrams who has recently been tasked with the next Star Wars instalments after their purchase from Lucas by Disney. Yes Disney. I know!
This film is good but given the money spent on it, it would have been a scandal of epic proportions had it not been. The story is pre "5 year mission" and all the corny cliches are there. Bones McCoy saying "I'm a doctor not a torpedo technician, dammit!" and the ubiquitous cameo from one of the original cast! The 3D aspect is ok with a few arrows coming out of the screen at ya and some rather nice space shots. But there is some rather cringeworthy aspects too. Simon Pegg's Scotty and Anton Yelchin's Chekov had disappointingly dreadful accents. Not quite Dick Van Dyke bad! But nevertheless a bit off and I expected better from them! There are some awful domestic couple comedy between Uhura and Spock and Karl Urban's Bones McCoy was pretty 2 dimensional.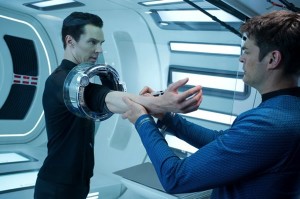 We all like a baddy and Benedict Cumberbatch is excellent and beautifully measured as Khan and Peter Weller as Marcus is pretty good too. And stay to the end, as the end credits offers some of the best 3D effects zooming through a library of planets and moons. But if your local cinema is charging high prices to see it in 3d, then skip it till the DVD comes out. It's not integral to the film and this technology is doomed to fail if they continue to treat loyal cinema goers in this appalling and greedy way! Shame on you Vue!
[rating=3]