Back in 1977 when the first Star Wars film came out they were showing it at the Ruislip Embassy, now a McDonalds. It was a one screen cinema, with tatty old theatre seating plus an upstairs section for an additional price. The screen was standard 16:9 but I'm not sure the theatre was equipped with Dolby 5.1, just standard stereo (not a selected theatre) There was smoking and non-smoking. The former sat on the auditorium left whilst the latter on the right. Refreshments included opal fruits, kiora cordial drinks and choc ices. Alas, being just 4 years old, I was too young to attend the picture.
Now in 2020, I'm 46 and the final instalment of the Star Wars saga has finally been released. The Vue cinema had recliner seats, the picture quality is 8k and the Dolby Surround is impeccable. The snacks still aren't up to much and cost me almost twice the price of the seat.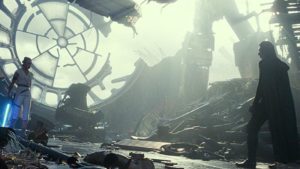 I'm about 3 weeks late seeing this film and steering clear of spoilers has been hard. The numerous Star Wars related trailers that precede the film don't do much to reward my efforts with some spoiling the visual impact of some of the best bits.
However the film proves to hit the spot several times. Without delving too deep and risk giving spoilers myself, there are treats for newbies and diehard fans alike. For me I love a good laser gun fight on, what are, pristine spaceships (fed up of post Alien grunginess). The same with spaceship battles though these got me quite disorientated at times, though I might blame my age for that. And some appearances from past characters, not least the much publicised posthumous appearance from the late Carrie Fisher (Princess/General Leia) which is a mixture of unused footage from the previous episode and computer simulation which is better quality than that used in Star Wars:Rogue One.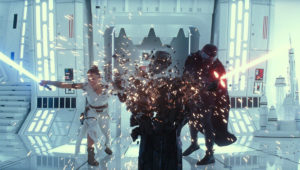 It's always a challenge to film a sequel or "the difficult second album". However nothing in film history has required anyone to film the ninth and final chapter in an epic saga that has taken 42 years to produce, that has created a massive (can't even use the word cult for this one) international following and spans generations of audience all of whom have entrenched opinions on the subject. That job fell to director JJ Abrams. Whilst this film screams some amazing performances, it is he who wins my admiration and respect for succeeding on one of the hardest projects ever anticpated, so hard that even creator George Lucas coouldn't attempt it.
It was well worth the wait and Star Wars wins a full score with 6 stars!
[rating=6]