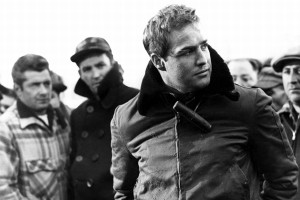 Filmed, released and set in 1954, the movie is set in the docks near Manhattan and tells the story of Terry Malloy (Marlon Brando), a dockworker who lives a humdrum existence accepting casual low paid work at the docks and spending the rest of his time keeping pigeons. Nothing wrong there, you may ask! However the entire workforce lives under the suppressive shadow of mob union leader (and ironically named) Johnny Friendly who runs a racket out of the docks. People who step out of line are quickly and fatally dealt with. Despite the imminent danger, many workers remain "d&d" (deaf and dumb) fearing lethal retribution or the eternal shame of informing.
Enter Edie Doyle (Eva Marie Saint) whose brother has recently fallen victim to Friendly's mob, of whom Malloys brother Charley (Rod Steiger) is a close member. She appeals to Terry and with the help of the waterfront priest Father Barry (Karl Malden) aims to change Terry's heart and stand up to Friendly by giving testimony. But will he be safe?
Before all the special effects, Hollywood quite often relied on a good story to get bums on seats. Present day Hollywood could do well to remember this simple yet powerful device that can make a film like this compulsive to watch, ultimately earning it a modest handful of Oscars including Best Picture and Best Actor for Brando. But the guy who "could have been a contender" without doubt was Karl Malden as Father Barry. His sermon on the docks is as powerful as any Shakespeare soliloquy and utterly captivating. For this reason, and as small comfort to him for not winning Best Supporting Actor,  FilmFridays declares him Man of the Match in this movie!
[rating=5]