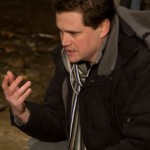 After shooting for 14 consecutive nights in a disused warehouse with temperatures averaging minus 4, director John Langridge jokes that he discovered the meaning of the word "popular". He was directing the pivotal scenes in his forthcoming film Four which is his debut as a feature director.
FilmFridays interviewed him last month at BAFTA
"We got the location off a company called Amazing Space. It was an old paper works in Taplow, which also had these huge office buildings next to it like a mansion. We were able to use those too to have a proper, really comfortable green room for the actors. There was also plenty of room for Jennifer Harty (make-up) to set up all her gear. And in one section of the house there was a section that looked rather like a bedroom, so we use that for the interior of the lovers bedroom."
And you shot the majority of the film in the middle of the night?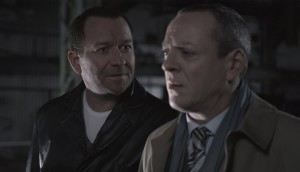 "A typical day – we would get up about one in the afternoon, arrive at work at 4(pm). Sit and have a breakfast/lunchy thing (brilliant chicken burgers). Then myself, Richard Lynn (1st AD) and Adrian Brown (the DP) would mooch about set with the shot-list for that day, talking through ideas. Meanwhile the actors would arrive at 4:30pm and go to costume and make-up. At 5pm we would have the actors onto set, film for five hours – lunch about 10pm! Wrap at three-thirty and out by four. Pete Carrier (the Gaffer) and Richard Lynn would look at their watches and say 'that's it'. Generator off, everything off. Back to the hotel and go into the bar which was quite strange at four in the morning. Then bed. Sleep through the morning and up again at one. That, for 14 consecutive days! And then about three weeks trying to get back to normal. Everyone was posting on Facebook "Tired, can't get to sleep etc…"
Was it intimidating working with such a stellar cast when you are the new boy?
They were great. Sean Pertwee is a brilliant actor! It's not until you see an actor actually at work that you realise just how good an actor they are! And even in takes where he's off-camera, you may not see him but he's giving 110%. There's something really Machiavellian about his performance and there are a few takes, which appear in the final cut, where I found his character genuinely disturbing.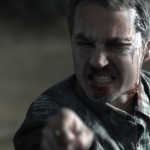 Craig Conway is dynamic and full of energy. And his ability to learn lines is uncanny! We'd be chatting in the bar the night before for a while; he'd go to his room. The following day…word perfect! I'd be thinking "Alright, Joe 90, where did you have time to learn all these lines? What mechanism are you using?" He'd do a big long speech and Lola Dauda (Script supervisor) would look at me and say "That's spot on". And it's because he's a stage actor.
Martin Compston is a very focussed actor, very much "in the moment". This meant we were able to run successive takes quite quickly. And Kierston Wareing is great as the wife character in this film, who ends up very much in control. I like strong women characters. Kingdom of Rain, which is my next film, has a strong female lead.
Nice plug. What can you tell us about this next film?
"Kingdom of Rain" is a modern Western set in Wales. It tells the story of Cerys, who's fighting to save her farm from the attentions of a local land-owner, after the death of her brother in the opening scene. A friend of her brother turns up to the farm to help her, but we find out through the course of the film that, well let's just say she didn't know her brother as well as she thought she did. Or the sort of people he'd got mixed up with. I can't say too much without giving away some important twists but it's an action thriller. We're pitching it as a modern, Western theme…it's going to be quite Sam Peckinpah. I wrote it. It's due for release in 2012 and we've quite an exciting cast though again, at this stage I can't say too much.
QUICK FIRE QUESTIONS
How important is it to have "names" in a film?
Very. It's the first thing people ask…"Who's in it?"
If you could direct an existing film exactly as it was made, which film would that be?
Citizen Kane
Of all the FilmFridays films reviewed to date, what is your favourite?
Animal Kingdom
What was the last film you saw?
X-Men:Origins – Wolverine last night
It's October and we're talking scary movies at FilmFridays. What's your favourite scary flick?
John Carpenters The Thing (1982). That and The Shining obviously.
If you could work with any actor, who would it be?
I've got two…Michael Fassbender and Tom Hardy, because they are fearless actors.
We're at BAFTA right now. Imagine you've just won Best Film. Who would be the first person you'd thank?
My fiancé Emily, because I couldn't do it without her. I know it sounds a cliché but it's true. She has been through everything with me.
FOUR is on general release on 21st October 2011 at the Empire Leicester Square and Key Cities around the UK. FilmFridays will be reviewing the film at it's premiere on Monday 10th Ocotber 2011.
The producer is Raiomond Mirza.