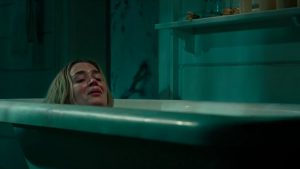 In a post apocalyptic world, a family is forced to live in total silence to hide from monsters with ultra sensitive hearing. It's ok for one of them who is already deaf but not so much for their youngest who, as a demonstration of how dangerous this world is, gets eaten in the first 5 minutes of the film. Hardly a spoiler as this clip was shown in all the promos. But what a promo! Start a story like that and I'm hooked.
The film follows them one year later where they have settled into a customised way of life. Chutney and pickled vegetables line their kitchen, they have electricity, cctv and a soundproof basement. Just as well as they also have a new baby on the way. Hang on, I hear you cry. How can  the wife have a baby and keep it quiet from these monsters? Well, quite.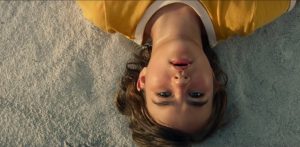 Not since Alien have I seen such a great film full of suspense and pathos. The superb debut from John Krasinski starring himself (do you know how difficult it is to be in something AND direct it too?) and real life wife Emily Blunt has the whole gamut. Great predator monsters whom we don't really know anything about and who remain enigmatic right up to the end. And a fantastic supporting cast with hats off to Millicent Simmonds and Noah Jupe. And a haunting score from Marco Beltrami.
If like me, you'd heard good reports about this film then, like me, follow it up by watching it. You won't be disappointed it.
[rating=4]