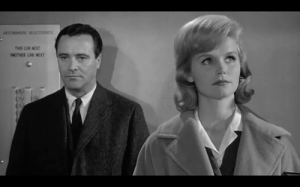 This 1962 film stars Jack Lemmon (as Joe Clay) and Lee Remick (as Kirsten Arnesen Clay) – a couple who fall in love, marry and start a family. But from the off, we are made aware that their relationship is a threesome between them and the bottle. Yes this film deals quite thoroughly with the subject of alcoholism and it's knock on effects, taking us on a rather comprehensive tour of the subject. In Kirsten we see a journey from tee-totaler to binge drinker, to bad mother, to bad daughter, to wooing her husband off the wagon, to her becoming quite "in-denial" that she has a problem.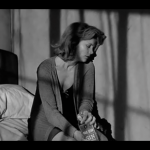 Joe, her husband was an alcoholic to begin with and falls off and on the wagon frequently. Whilst his progress leads him to attend the AA and ultimately total abstinence, his journey represents the realisation of the responsibility he has to wife, child and self and furthermore his lack of control over this responsibility. All this with a pungent mixture of rage, hopelessness, temptation, lack of self belief and terrible guilt.And I most liked the fact that Joe's desire to "make good" when he was sober was full of self-centered gestures and quick-fixes that were oblivious to the feeling of others around him – reminiscent of his behaviour on the sauce. His alcoholic catchphrase "hit me again" to waiters and barmen oozes with the selfpity and moroseness that rots within him.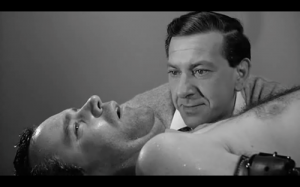 The film also gets us to reflect on what we consider to be a moderate and healthy lifestyle. I was amused to notice that the AA meetings in the film were filled with smokers, all unaware that they had traded one vice for another just as addictive. And yet one may question whether some of the social drinking in the film is quite mild by today's standards.
However, I did think parts of the film were a little too hysterical in order to make a point- the scene in the green-house was just a tad too long. These moments seemed slightly reminiscent of soap-operas who try to tackle controversial storylines but only have a limited time to get the point across, so the action becomes very much OTT in a short space of time.
All in all, this is a nice rainy afternoon film.  Nice to see a young Jack Klugman (aka Quincy ME) play Jim Hungerford – head of Jim's AA group. Incidentally, director Blake Edwards' next film was to introduce us to a character called Clouseau.
[rating=3]