Gary King (Simon Pegg) has been unable to move on in life since he was in his late teens – the glory years! He still drives his car, The Beast, still listens to the same cassette compilation tape and still lives in his home village of New Haven. During a group therapy session, he becomes convinced that the root to his troubles was his inability to complete "the golden mile" – an epic pub crawl which appears to be the most enduring image of happier days for him. So twenty years on he reunites his original gang, his four mates who have significantly moved on from those halycyon years – one is even teetotal. However much time has passed since those days and it appears that his friends may well abandon the idea which for them has lost all creed and substance. Until, that is, something very peculiar happens that binds them together and their pub crawl become an epic quest – a search for truth, discovery, survival…. and a few more pints!
I was looking forward to this film. The last in director Edgar Wright's so called "cornetto trilogy" (previous instalments including Shaun Of The Dead and Hot Fuzz) starts off exciting and Britishly familiar. If there are "coming of age" films, this definitely starts like a "coming of middle-age" film. The concept is quirky and fun, in an age where reunions and 80's school discos are popular, or at least were a few years back, this film seemed to be ticking off all the boxes rather like Gary's golden mile map. Then it grew a bit reminiscent of the previous two films, with odd behaving locals who maybe out to kill you, not to mention a few classy fight scenes very much of a pseudo Hollywood standard. Then something happened. I don't wish to give spoilers but those who have seen this film, or indeed the last Indiana Jones film, will know what I'm talking about. Something in the film goes badly wrong and off at a wild tangent as though they were stuck for an ending! You are left at the end of the film a little baffled, a little short changed and immensely disappointed.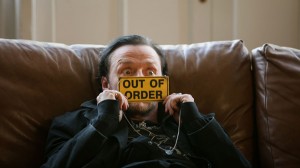 And after the previous films successfully jokingly lampooned their relevant genres, this had little spoofing. Indeed the comedy has moved on a little since the Spaced years of the early noughties. What started off looking deliberately aged and jaded, alas, never evolved and so the irony of a film that has stubborn nostalgia as a main theme for it's protagonist ended up being exactly that itself.
This film would have been just as good as the others ten years ago but is old hat now! Shame, but life moves on!
[rating=2]