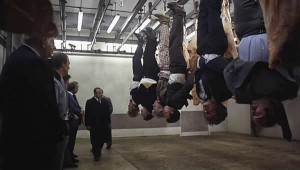 Any discussion about the Brit-gangster genre is going to contain heavy references to this film. And I can now say, having finally watched it, that I can be party to those discussions! It's evident to me now where Guy Ritchie gets his inspiration and indeed why they cast who they did in Lock, Stock and Two Smoking Barrels. Most of them cut their teeth in this film including PH Moriarty, Alan Ford and even a young Dexter Fletcher!
Harold Shand (Bob Hoskins)is a big cheese in gangland London who has brokered peace in the area for the last 10 years, something of which he is notably proud of. So when his best friend is murdered and a series of bombs rocks the tranquility, he calls in his "corporation" for a meeting and sets about trying to discover what is happening. To make matters worse, the unrest is jeopardising his deal for a large property development in the Docklands with an American mafia investor.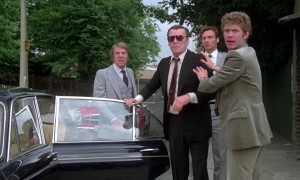 Hoskins' tackles a gamut of different emotions though never over the top. The final minutes of the film is very impressive and, like the first few minutes, uses no dialogue. The acting does the talking. Helen Mirren's excellent performance as Shands' wife is beautifully calm, understated, classy, focused and quite the pillar of strength a character like Shand would require.
The rest of the cast all make marvellous contributions – sadly there are just too many of them to list them all. So I won't. Instead I will pass to my next commendation and mention the fantastic original soundtrack from Francis Monkman which is a bold mixture of traditional instruments with electric synthesisers (they were very new in their day) The theme of "new taking over from the old" is not lost on me here and accompanies the vistas of pre-developed docklands perfectly. And a big thumbs up for director John Mackenzie (also notable for The Fourth Protocol)
I would highly recommend this film , not least because I'm a Londoner myself and it's a great snapshot of the city at the start of Thatcherism and a turning point in its own history. The docklands are as yet undeveloped, the bid to hold the 1988 Olympics there had failed. Well, well, well, how times change. Even some of the Edwardian "slums" that Shand revisits from his youth are now probably worth millions. But time, tide and change is such a strong theme in this film it can't help but still be touching today!
[rating=5]