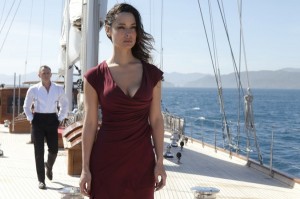 I'm hard pushed to think of any franchise, even Rocky, that has reached number 23 and yet Bond is back for just such gruelling treatment. Directed by Sam Mendes, the film was almost not made after MGM hit major financial troubles and had to suspend the project. But today finally saw its general release here in the UK. It is Daniel Craig's third outing as Bond, Judi Dench's seventh as M and the twenty-third time a vodka martini has been shaken and not stirred.
There was a time when a Bond film followed a format (Ask Alan Partridge). It always started with a prologue; Bond killing some insignificant villains. Cut into title sequence with lots of silhouettes, usually of naked ladies with titles shooting phalically out of Bond's pistol. Bond then meets M at MI6 and gets mission. Then he meets Q at Q-Branch and gets gadgets. He'll fly to an expensive hotel in a Far Eastern location and get DJ'd up for something resembling the Ferrero Rocher Amabassadors Ball. Accompanied by a sexy female MI6 contact he meets the villian in formal surroundings and beats him at cards. Then he has sex with the villians girlfriend, much to the jealousy of his MI6 collegue. Then there will be lots of driving around mountains doing reconnaissance where he uses his gadgets on the villains henchmen (he got from Q earlier? pay attention 007) and the female MI6 colleague would get kidnapped. The finale would consist of Bond going to the villains super lair to rescue her. The lair would contain the villains secret weapon or super-computer designed to conquer mankind but ends up blowing up. With the villain dead he heads back to London, finally having sex with the MI6 colleague. The End.
Craig's Bond has not only strayed from this format slightly but he has left his own mark on the character. We see a more vulnerable side, learn more about his past and what has made him who he is. Craig's Bond is less sleazy and cocky. Capable of failing and letting people down, he has his fair share of loosing battles. Consequently we are rid of the predictability of the storyline, raising the stakes and risk for all concerned.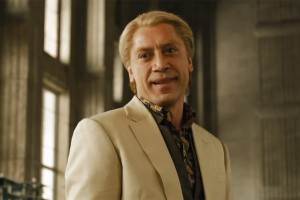 However, many may suggest Quantum of Solace took this reinvention beyond recognition and merely used what we love about Bond in a gimmicky way. I would go as far as to suggest Mendes and the writers are a big fan of Bond. Like Russell T Davies when he was released onto Dr Who, this film has been produced with a love and intrinsic understanding of not only the characters but a nations relationship with them. Even HM The Queen wants to be seen with Bond, that's how much it matters! This film ticks every box. Bardem's villain is the best since Christopher Walken. Bérénice Marlohe is the sexiest Bond girl in decades! There are great chase sequences, there are amazing foreign locations, there are great London sequences and a whole world that we get to share with our hero – a classy world, a dangerous world, a wealthy world, a sexy world – that we would never otherwise experience, even if we were royalty (though I have it on good authority that it was the real Queen who parachuted out of the helicopter at this summer's Olympics!)
Every nation has their hero. America called their superman, rather unoriginally, Superman. The British, in our rare moments of non-sport related patriotism, call their superman Bond. James Bond.
[rating=5]