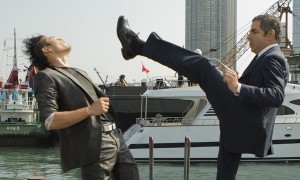 There have been many successful films whose legacies have been diluted by their appalling sequels.


Superman,


Ghostbusters and


Blues Brothers to name a few. But occasionally a film's sequel can be better than the first. The only problem with this is that the film is often approached with trepidation and a sense of dread – not a great start for it. Johnny English Reborn was one such film. I had heard from others the phrase "surprisingly good" which not only am I inclined to agree with, but also confirms my fears of peoples low expectations. It's not a classic by any means but, nevertheless, not the messy regurgitation that sequels can often be, where the best bits of the first film are repeated in a slightly different order. Face it, I can't think of many memorable moments from the first film.
Which is a shame as "The Man for All Seasons" English has great potential export. Presumably this is why the film contains every conceivable 'English' stereotype including The Queen, an amazingly shot scene at the Mall (involving an electric wheelchair!), an MI7 agent complete with Q branch and a Rolls Royce! But refreshingly some great comic twists on the stereotype weren't always at the expense of our hero including a chase sequence where common sense, patience and the odd GnT triumph over skill and agility. After all, the English are masters of the understatement.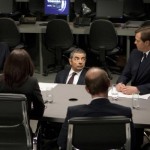 And it is with such understatement that Atkinson proves he is a comic master. I'm sure I'm not the only one who feared an hour and a half of Mr Bean-isms. But Atkinson also does cool very well and when confronted with the misfortune a character like English inevitably attracts, it is the defiant "stiff upper lip" and almost refusing to admit anything is wrong at all that proves to be quite amusing. A simple gag with a broken chair rising up and down in a serious meeting was hardly going to be original. Yet the movement was so slow and the comedy impeccably controlled and sustained that the moment for me was as good as any of Peter Sellers as Clouseau. Throw in an unlikely Oriental always attacking him from out of the blue and it was very comparable. Indeed, Clouseau also came to fruition in a sequel!
Bond is our biggest movie export and the franchise is renowned for its big budgets and dangerous stunts. Any spoof worth its weight should match this and it does. I was impressed by the chase sequences and the view of a helicopter getting stuck in a traffic jam! And a great array of imaginative gadgets and effects. And unlike the latest Bond episodes, the love interest in the movie was understated, which was a point winner. Also understated was it's comparisons to other contemporary movies which, as films like


Hot Shots show, can age it quite quickly.
What? You want a quote from me? OK…here goes!
"Quite good sequel. Don't be put off by the original!" – FilmFridays!
How terribly understated. One might almost say….English!
[rating=3]
Buy Johnny English Reborn [DVD]