The British do the ghost story ever so well, especially if set in olden times in a remote village where locals eye you as a threat. Almost like a Daphne du Maurier of the present day, Susan Hill's 1983 novel The Woman In Black has had remarkable success. From it's inclusion in the national syllabus to an adaptation by the late Stephen Mallatratt which has run at London's' Fortune Theatre since 1989 to this very day and is almost set to give The Mousetrap a run or its money. The secret, I've no doubt, to both this successful run and the film version now starring Daniel Radcliffe is simple. It's got a damn good story!
This new adaptation of the chiller differs occasionally from Hill's original story. For example, Arthur Kipps (Daniel Radcliffe) is a widower caring for his young son. He never attends the funeral of Alice Drablow (one of the most iconic sightings of the Woman in Black) and the ending is completely different too, though no spoilers there! But WiB fans don't fear! There is still an Eel Marsh House out on the Nine Lives Causeway which, if not computer generated, must have been a nightmare for the location manager. And the nearby village, Crythin Gifford, is aptly rustic and yokel if a little over eager to be so. And quite hilly for what is supposed to be the east coast of England, but that's remote for you!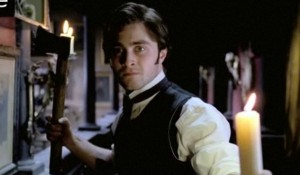 Despite numerous parts on stage and screen, it was never going to be easy to shake the cloak of Potter, but Radcliffe appears to have chosen wisely with this film. Fans of the actor have not had to re-invent him too much in their minds-eye whilst the film itself does well to showcase his abilities without a wand and specs. One would like to think that he owes this unique level of shrewdness for a man of his age to years of experience as Potter. I imagine it's probably got more to do with the advice he's heeded from the wealth of many highly experienced contacts he's made! Whatever it is, I think it's worked!
Excellent, indeed re-assuring support from a non-too-hysterical Ciarán Hinds as Daily. Radcliffe was never as good a child actor as Misha Handley, who plays his son (and is his real-life godson!) Praise too to Tim Maurice-Jones for his excellent cinematography. If you are ever stuck as to whether you should see the play or the film, I would say see them both. They are different treatments and different pieces of art. And both will frighten you – guaranteed!
[rating=5]