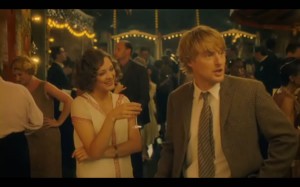 A writer and his fiancee are having a strained holiday in Paris. Frustrated by the lack of romance that his partner has for a city he adores, he wanders off on a walk only to end up at a party with Zelda and F. Scott Fitzgerald. Yes that's right, he's gone back in time to the 1920's! It's not long till he strikes up a romance with someone in the 20's and this leads to the old "double life" scenario as he tries to maintain the status quo in his normal miserable life whilst being driven to distraction about this other world he can only visit after the stroke of midnight.
The BBC did a sitcom rather similar to this called "Goodnight Sweetheart" where the lead also found a time-portal and led a double life in World War 2 London. The inevitable adultery metaphor lays emphasis on romantic nostalgia when times were good, secrecy and the rather masculine endowment that being from the future makes you more savvy (and therefore more powerful) than those around you. Mix into this cameo appearances from all your favourite 1920's idols and Woody Allens' ubiquitous prattling about "what does it all mean?" and you've pretty much got this film licked.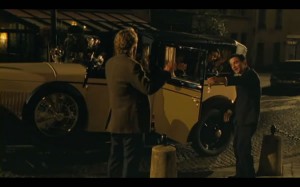 Harsh? Well this film wasn't cinematically up to much. The establishing shots at the beginning are the same  shots that I've got on my phone from my trip to Paris in 2010. The music was hardly Paris inspiring Yann Tiersen or Gerschwin, but more the "we're in Europe" library music you expect to hear on Curb Your Enthusiasm. The script was full of feeble literary jokes. For example –  "She'll drive you crazy this woman" – Hemingway's comments to F.Scott about his wife Zelda. For those who don't know, the couples excessive lifestyles lead to their premature deaths, and only after she had gone quite quite mad. I can hear the literary types having a chuckle in the cinemas round the world whilst the rest of us are left feeling as though we're missing out on something. You know what? I don't think we are!
Owen Wilson, however, does make the whole film amiable enough to watch and he seems very much at ease with Allen's prattling script. It even suits him. Thanks to Wilson's relative youth, the story become a pre-nuptual crisis rather than a mid-life one which makes it refreshing and modern. Other appearances include British actor Michael Sheen as the couple's know-it-all friend, Kathy Bates as Getrude Stein, the bewitching Marion Cotillard and Carla Bruni (Mrs Sarkosy to you and I).
Don't get me wrong, the film is nice and fun to watch. But if any part of it became nominated for an Academy award, I'd be hard pushed to think of where it would win.
[rating=3]
Midnight in Paris is available on DVD from 6th February 2012
Buy Midnight in Paris [DVD]