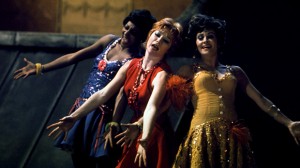 The thing that you need to understand about Charity Hope Valentine (Shirley MacLaine), to put it bluntly, is that she is fairly pathetic. A dance hall hostess, she's young, pretty, and desperate to be loved, but most importantly, she is irrevocably naive. Sweet Charity follows her search for love in 1960s New York City, always believing that 'This must be the One'; in the opening scene, Charity is so blissfully in love that she announces that "New York is my personal property, [and] since I like you very much, so very, very much, I'm gonna split it with you." We instantly understand that this is not the first. And that it cannot end well.
Like the show that it is adapted from, the film retains its two-act structure, and like the show, the film is directed and choreographed by the renowned Bob Fosse, best known for his work on sumptuous films and musical shows such as Cabaret and Chicago. Who can forget the subtly powerful choreography in either of these titles? Needless to say, Fosse's stamp is all over Sweet Charity, from the chic 60s dance-off at the Pompeii Club to the exultant hippie 'mass' that opens ActII.
And yes, there are songs, it is a musical after all, but every tune serves a purpose, offers an insight that words couldn't achieve with songs you never knew you knew: If My Friends Could See Me Now, Big Spender, There's Gotta Be Something Better Than This, and The Rhythm Of Life. The latter of which is jubilantly lead by Sammy Davis Jr.
The verdict? Charity is a hopeless romantic but that doesn't mean she's hopeless. This film is a musical, but that doesn't mean it's cheesy. And love stories? They needn't always be about stereotypical girls who get the handsome prince, get married and have babies…
[rating=5]