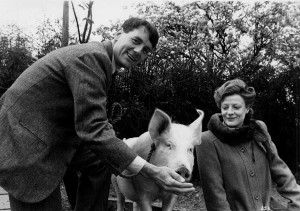 Betty Blue Eyes, the musical theatre adaptation of A Private Function, is currently showing in London's West End. With this in mind I asked myself: when it comes to adaptations, is it generally best to experince the original first? Should we always aspire to read the book before watching the film? Or in this case, should I have watched the 1984 film version before I purchased my seat at the Novello Theatre?
As the billboards for the theatre production point out, parallels can be drawn between the England of 1947 that is presented in the film, and today. On the surface, the words 'Austerity Britain and a Royal Wedding. It is of course 1947!` could describe either time and although the government is no longer  declaring "fair shares for all" there could hardly be a better time to revisit the amusing tale sparked by a blue eyed pig named Betty.
A Private Function is headed up by an array of Cherished British Actors including Maggie Smith, Michael Palin, Richard Griffiths, and Denholm Elliott. The presence of Griffiths on this cast is probably sufficient to give you a good idea of the film's style. Picture this: WWII is over and the residents of a  small Northern village are trying to cope with reduced rations as a wily government food agent named Inspector Wormold works on closing  down  all the local butchers selling off-the-books meat. In the meantime, a group of the respectable gentlemen from the town have stashed away a pig to be eaten at a banquet for Princess Elizabeth's wedding to Philip.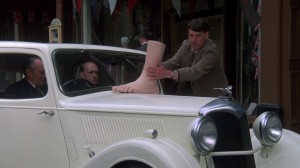 Not necessarily your typical US Blockbuster war film. If Pearl Harbour is one of your favourite movies you might want to give this one a miss, but if you're a fan of wholesome British humour with a good dash of nostalgia it won't disappoint. Alliteratively post-Python Palin is endlessly charming as the hopeless chiropodist Gilbert Chilvers firmly under the thumb of wife Maggie Smith – a lady who oozes a sense of 'could have done better'. Perhaps that's the most British trait of the film: a sense of comic despair encouraged by our love of queueing, moaning about the weather and dissatisfaction with Our Lot.