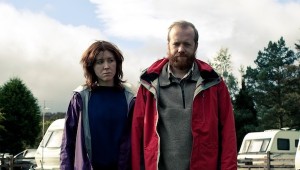 This odd dark comedy is the creation of it's principle performers
Alice Lowe
and
Steve Oram
. A socially dysfunctional couple (Tina & Chris) head out on their dream caravanning holiday in Britain but their itinerary of museums, beauty spots and heritage sites is interspersed with their newly found appetite to kill those who annoy them! Whilst this gives extra pep to their sex life, it does leave them a little disillusioned about their relationship with each other and the world that surrounds them.
I found this film a delicate balance of priceless moments and disappointment. The idea is certainly fresh and original. The chemistry between Oram and Lowe is reminiscent of  Rob Brydon and Julia Davis in Human Remains. Eileen Davies is hilarious as Tina's mother Carol and also worth a mention is Chris' friend in plastics, Martin (Richard Glover) And great original music, though sparse especially at the beginning, from Jim Williams.
Then on the negative side, I was disappointed by the hit and miss photography. It could have been more sublime and inspiring, but there was little Wordsworth about it, more Hoseasons holiday brochure – which was a poor choice as the characters are plain enough. However there were some hits with the editing with a few strange montages/dream sequences including quite a vivid sunrise murder on a tor mixed with a ritual chicken killing by some Shamen on a campsite nearby (as you do!)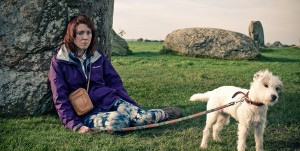 Packed with a strong 80's soundtrack this film tells the story of a modern, youthful mid-life crisis. Ambitions, dreams, expectations and life journeys that are never really fulfilled with a mix of despair and resentment at modern life. And these characters aren't objects of ridicule. I'm ashamed to admit but I too have visited the Pencil Museum in Cumberland on my holiday! And I visited the cinema in my weatherproof anorak (it's sensible, it keeps out the cold and wet!!!) and National Trust hat! Tina and Chris are just normal people who find themselves annoyed by those who drop litter! Who doesn't? Because they are normal, we relate to them. We don't judge or condemn them, despite their murderous shortcomings. We empathise with them and laugh at them because they're reminiscent of ourselves (except for the murdering of course) In that respect, this comedy is very British!